Gotha News - THE AZUN VALLEY in the French Pyrenees is the cradle of some Europe's royal and princely families
05 August 2016, 0 comments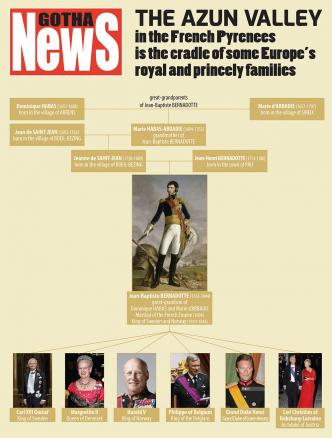 This magazine reveals the existence of the maternal ancestors of King Jean-Baptiste BERNADOTTE (1818-1844) of Sweden and Norway in one of the French Pyrenees' most splendid valleys : the Azun valley.
Lots of British and European tourists come to visit this valley every year, or indeed to see Tour de France racing cyclists climb the Aubisque and Soulor mountain passes situated there. But the tourists forget that several kings and queens as well as European aristocratic families have their heritage at the heart of these mountains right next to Spain.
Until now, only the paternal ancestor, Bernadotte de Pau, was taken into account in the direct line of descent of Sweden's king. The maternal ancestry was also completely unknown and ignored by the Azun valley's inhabitants and the inhabitants of the wider Hautes-Pyrenees region.
I discovered the maternal ancestry in 2014 during an official visit to Toulouse by Carl XVI Gustaf and Silvia, Sweden's royal couple.
This information was given to the Swedish king in the Toulouse mayor's welcome speech on the 4th December 2014 at the city hall.
My publication of July 2016, therefore aims to rectify this omission.
Henri GOURSAU